We work with successful corporate executives nationwide who want to take control of their destiny, build wealth, and live life on their own terms. You may be the right fit if you'd like to leave the corporate world altogether to invest in your own business… or if you'd like to keep your corporate job while growing a franchise on the side for supplemental wealth.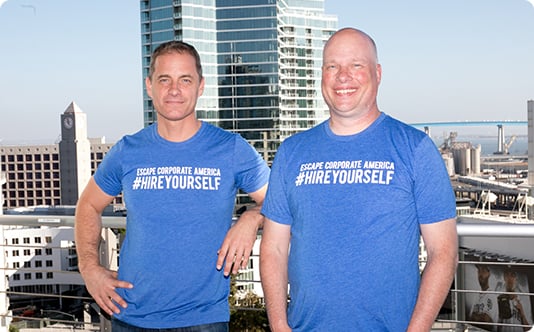 Our Process
At HIRE YOURSELF, we take you through a proven system to find the right franchise
to leverage your business acumen, so you can live life on your own terms.
We Get To
Know You.
This is done through a simple questionnaire and brief consultation call. These two steps will easily determine if franchise ownership is right for you.
We Give You The
Right Resources.
We will connect you to proven franchise concepts and introduce you to the franchising options that best serve you.
We Conduct
Coaching Calls With You.
We will continue to educate you on franchising and provide you with ongoing guidance, connections, and materials as needed.
What Makes Us Different
The HIRE YOURSELF Consulting Group brings decades of experience in the corporate world as well as franchise ownership.
We've seen firsthand how large corporations can suck up an employee's hard work and dedication ….. only to discard him or her at a moments notice.
We know how hard it is to start a business from scratch, and in all cases we can help you out. We know what it's like to have a boss determine whether or not you have a job in the future… how much money you will make, how many hours you work, and even where you live.
We're passionate about helping you make the transition to franchise ownership because we took the leap ourselves and experienced the huge positive impact this made on our lives, our family, and our financial legacy.
We've been supporting thousands of corporate executives just like you to take control of your
destiny

,

build wealth

,

and live

life on your terms through Franchise Ownership.

Whether you want to escape the corporate world altogether, or if you just want a side income to grow your wealth, HIRE YOURSELF is here to support your journey.